If you have a Squarespace site or if you're currently putting one together, changes are that it is beautiful! One of the main reasons customers choose Squarespace is for the beautiful designs and easy to use interfaces.
Now that you're looking for a store locator to add, chances are, you'd like the locator to look just as good. Most importantly, the locator needs to blend in beautifully with the exact same fonts, colors, layout ideas and branding used throughout your site.
To make this happen, we've created Storepoint Store Locator. Here, we'll go over the steps in getting setup and getting a fully customized locator like these (https://storepoint.co/examples) setup for your site.
Step 1: Getting a Storepoint Account
The first step is to setup your Storepoint account. You can signup for an account here: https://storepoint.co/signup
Step 2: Adding in, uploading or syncing your locations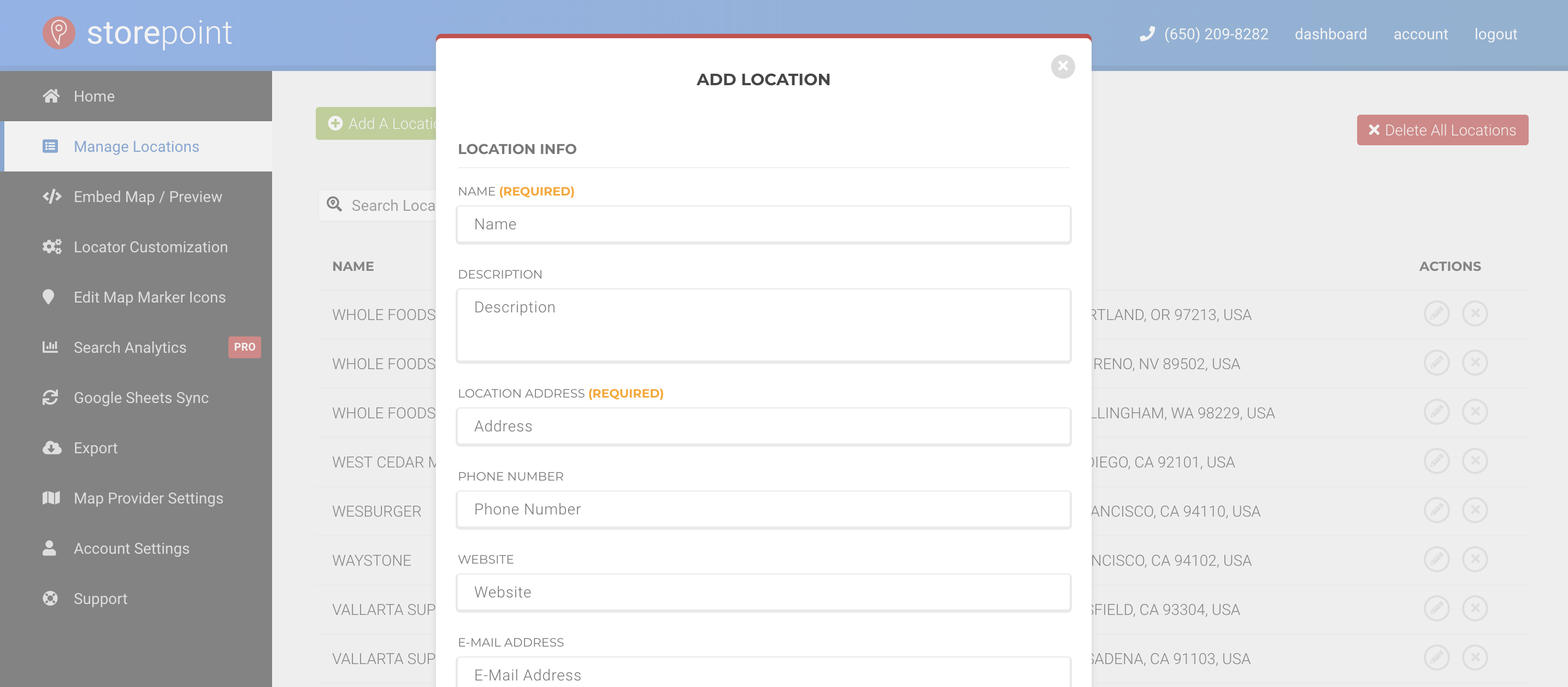 With Storepoint, you can either bulk upload from a spreadsheet or CSV, add/edit locations individually in the admin panel or sync locations from a Google Sheet. The interface for getting this setup is very intuitive and can take a few minutes, depending on how many locations you have.
Step 3: Let's pick some basic settings to start
In the "Locator Customization" tab in your Storepoint account, you can now pick some basic settings for your product or store locator. Here, you can adjust default radiuses, regional settings (like showing distances in kilometres vs miles), translating text like the search bar prompt or "no locations found" messages and much much more...

Step 4: Add the locator to your Squarespace site
Before we jump in with our customization, to make your locator blend in beautifully in terms of matching the exact fonts, colors and more, you'll need to add the locator on your Squarespace site. If you'd like, this can be an unlinked test page for now!
Luckily, this part is really simple and we've put together a quick tutorial for this here: https://storepoint.zendesk.com/hc/en-us/articles/115007366888-Add-Storepoint-store-locator-to-your-Squarespace-site
Step 5: Customization
Now that you've embedded the locator, simply send the URL to our team at hello@storepoint.co and we'll customize the entire locator to match your theme, fonts, colors, branding and any other requests you may have. This full service is included free with all our plans and is unique to Storepoint. Take a look at some of our past store locator and product locator designs here.
All done!!
If you have any questions or if you're wondering what we can do for your use-case in building a product locator, store locator or map for squarespace, contact us and we'd be happy to help: hello@storepoint.co