Store Locator Examples
"From first click of purchase to final product was about 15 minutes of chatting with Jake. He created a beautifully customized map with basically no direction. I'm a stickler for design and the product is beautiful. Highly recommend."
, Article One Eyewear
- Maggie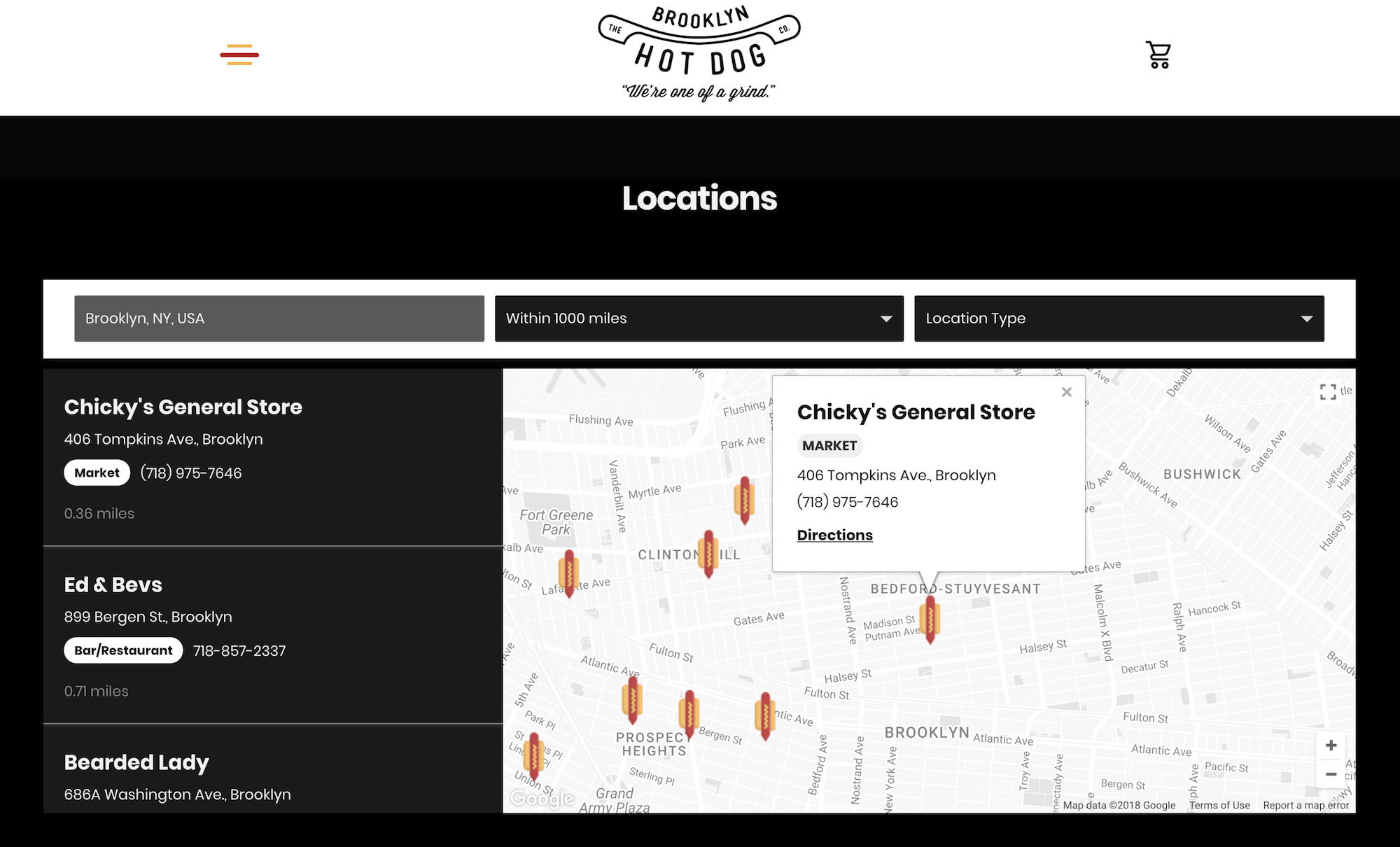 For The Brooklyn Hot Dog Company's store locator, everything from the fonts to layout was customized. Beyond the design, made to match all aspects of the brand, each location is tagged and categorized depending on whether it is a "bar/restaurant" or "market". Customers can easily filter by the type of location they're looking for when searching.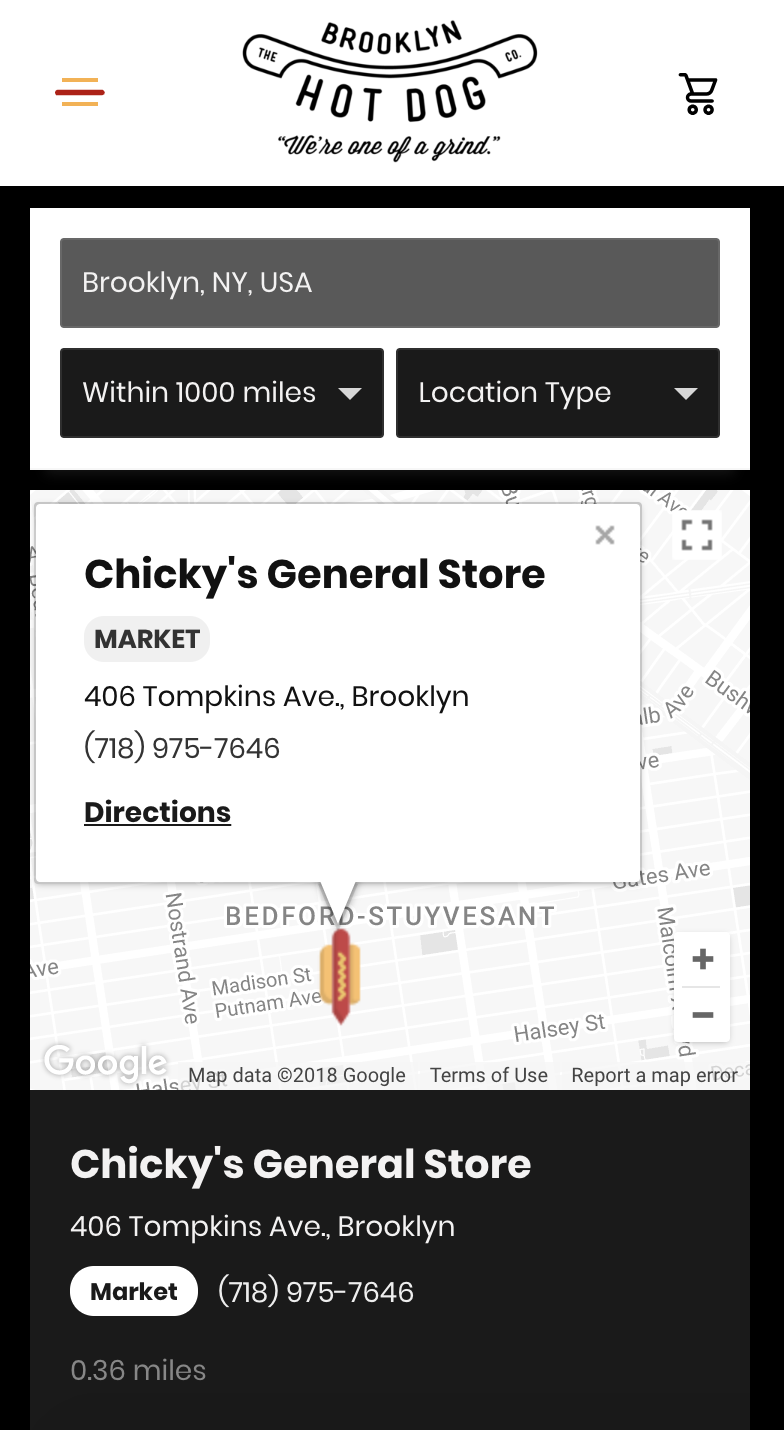 Using automatic geolocation, customers instantly see their nearest locations and if no locations are found, a custom message appears.
The store locator is also designed to be responsive - that means it looks and works great on mobile devices. The layout is modified specific for mobile devices in order to make use of the limited screen space while still being user friendly.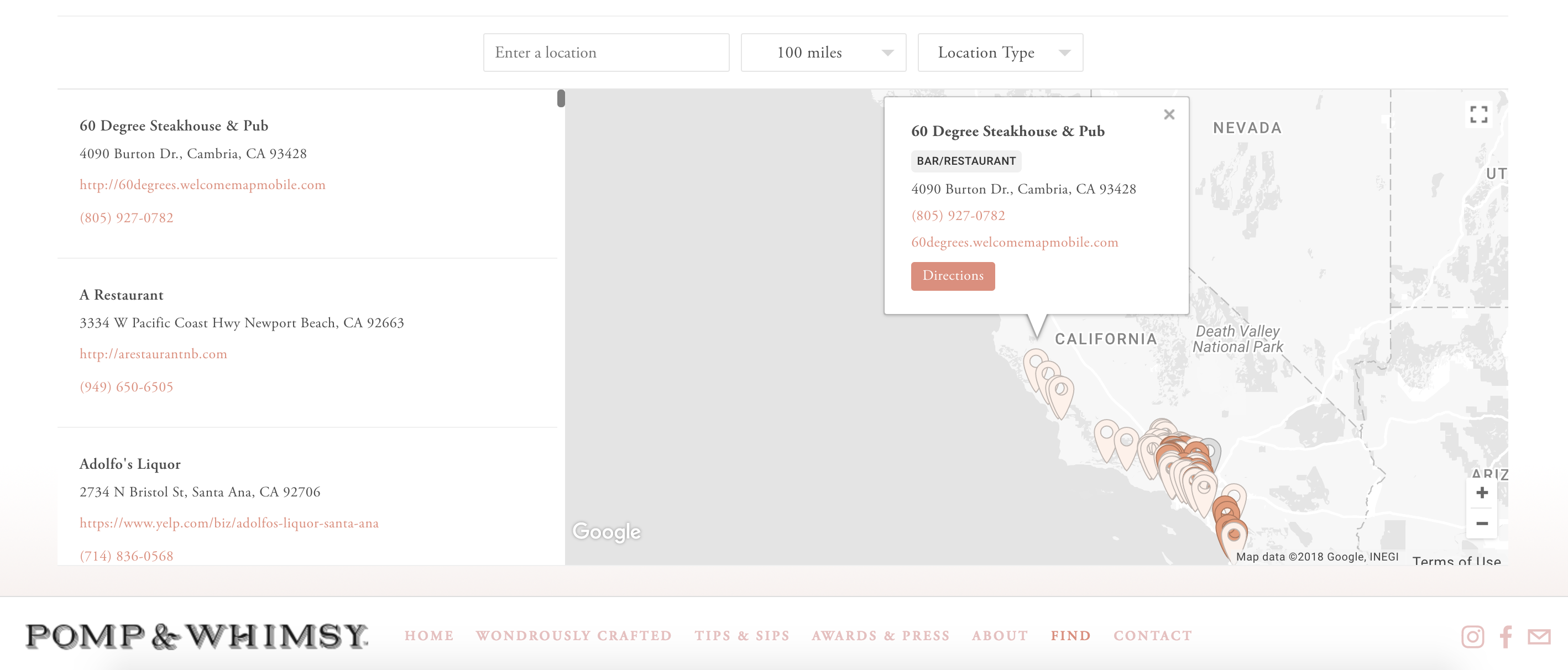 For Pomp & Whimsy Gin, we put together a beautiful store locator that matches the fonts and light salmon colors used throughout the website. Additionally, the Pomp & Whimsy team has categorized their locations: Customers can easily choose between bars/restaurants or liquor stores.
Feel free to try out the locator here: https://www.pompandwhimsy.com/find/
Looking for your own store locator?
We can customize a locator to match your website & brand too! Included free with any of our plans.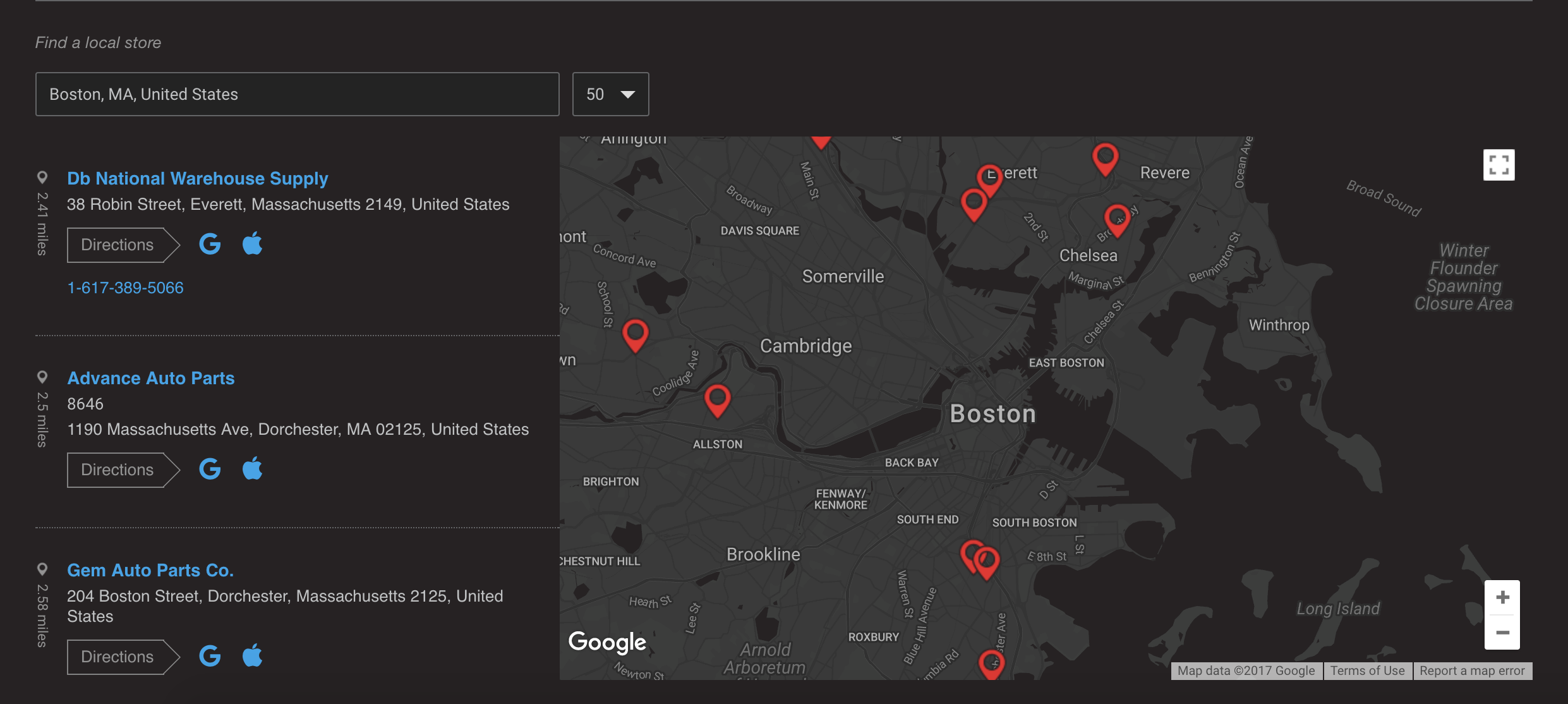 For POR Products' store locator, we customized the locator to match the dark-grey background and light blue links, giving a nice contrast. We setup custom directions links for both Apple & Android devices so that it always opens in the desired app.
Additionally, automatic geolocation detects a user's location on load and shows only the locations nearest them. Of course, users always have the option to adjust their search or increase their search radius using our simple search tool.
As always, the dealer locator app is optimized for mobile to look and work great. The layout is adjusted to fit in on smaller screens while still making the locator very usable & useful.

In this demo, we styled a locator with a greyscale map, custom marker pins as well as a location filter with images. Users can filter between locations that serve swirl ice-cream or chocolate ice-cream.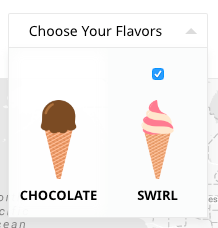 This is a great example of what we can build for your locator.
Do you have locations that stock various products or product categories? Allow users to filter by products or categories so they can find exactly what they're looking for.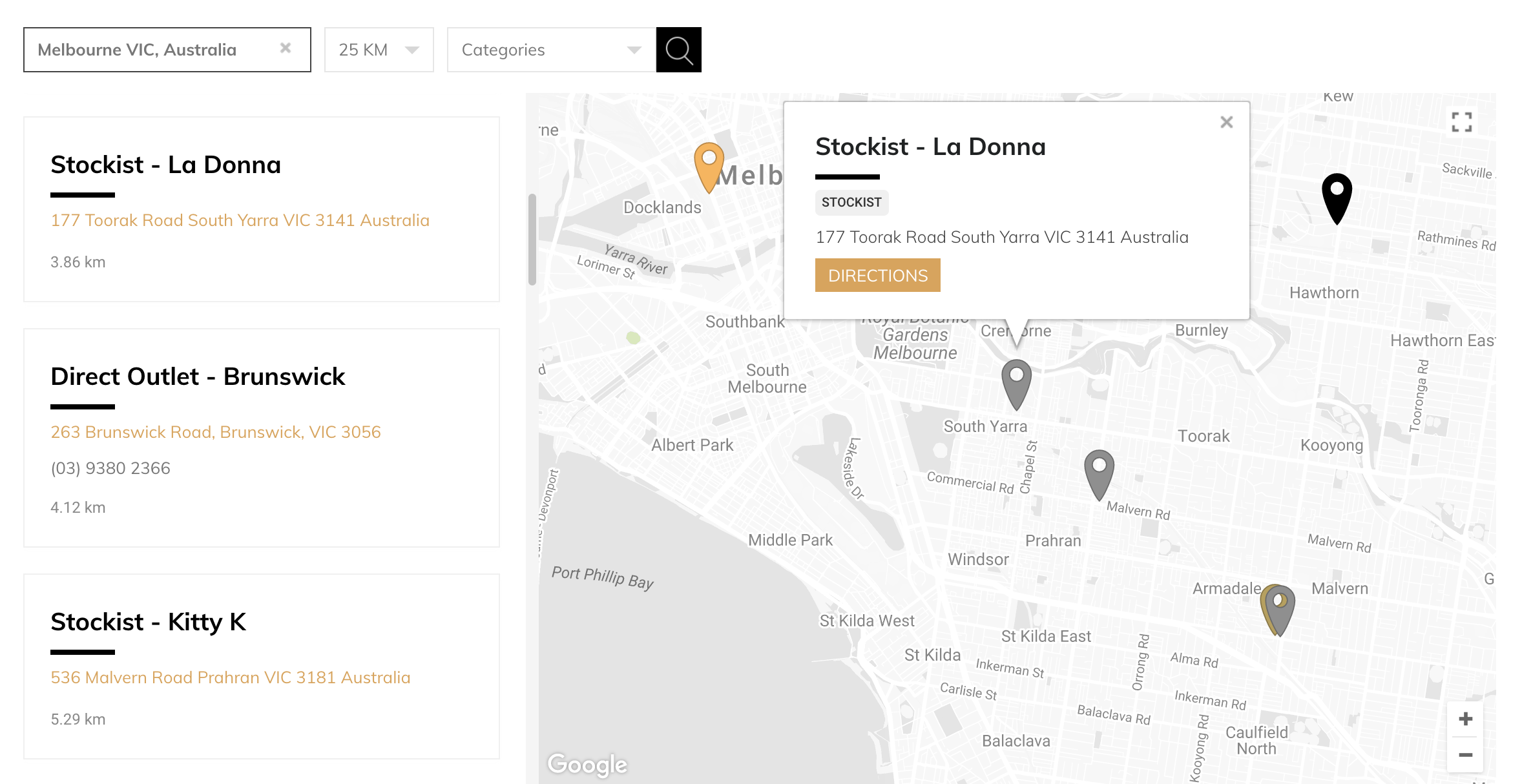 For Simone Pérèle, we customized the locator to match the same borders, fonts, colors and overall styling used throughout the website. Every aspect of the locator matches the styling of the website, making it blend in beautifully.
Feel free to try out the locator here (try with australian postcodes): https://www.simone-perele.com.au/store-locator
We can customize a locator to match your website & brand too! Included free with all of our plans.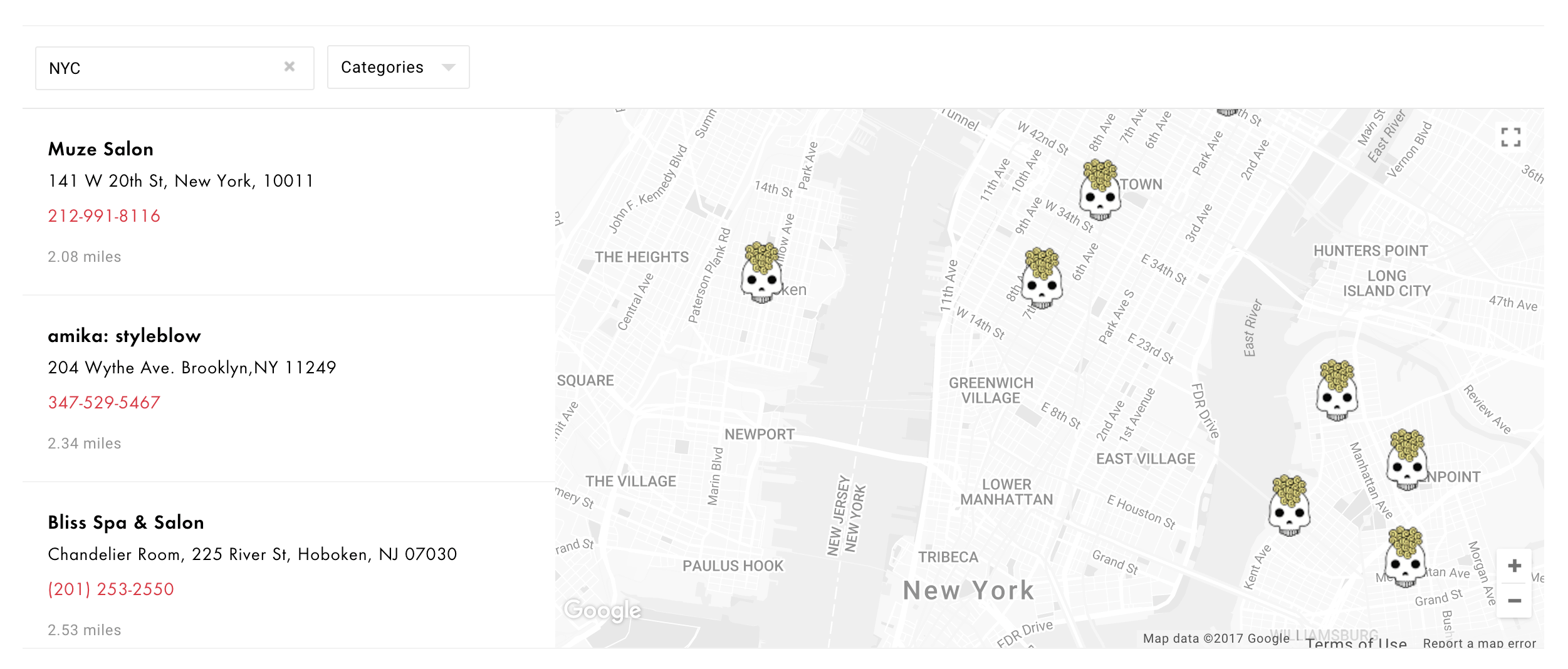 In this example, the styling of the store locator elements were reworked to fit in with the modern design of Amika's site. The layout, colors and map theme were customized. The marker pins were replaced with a custom icon marker.
Chat With Us Now!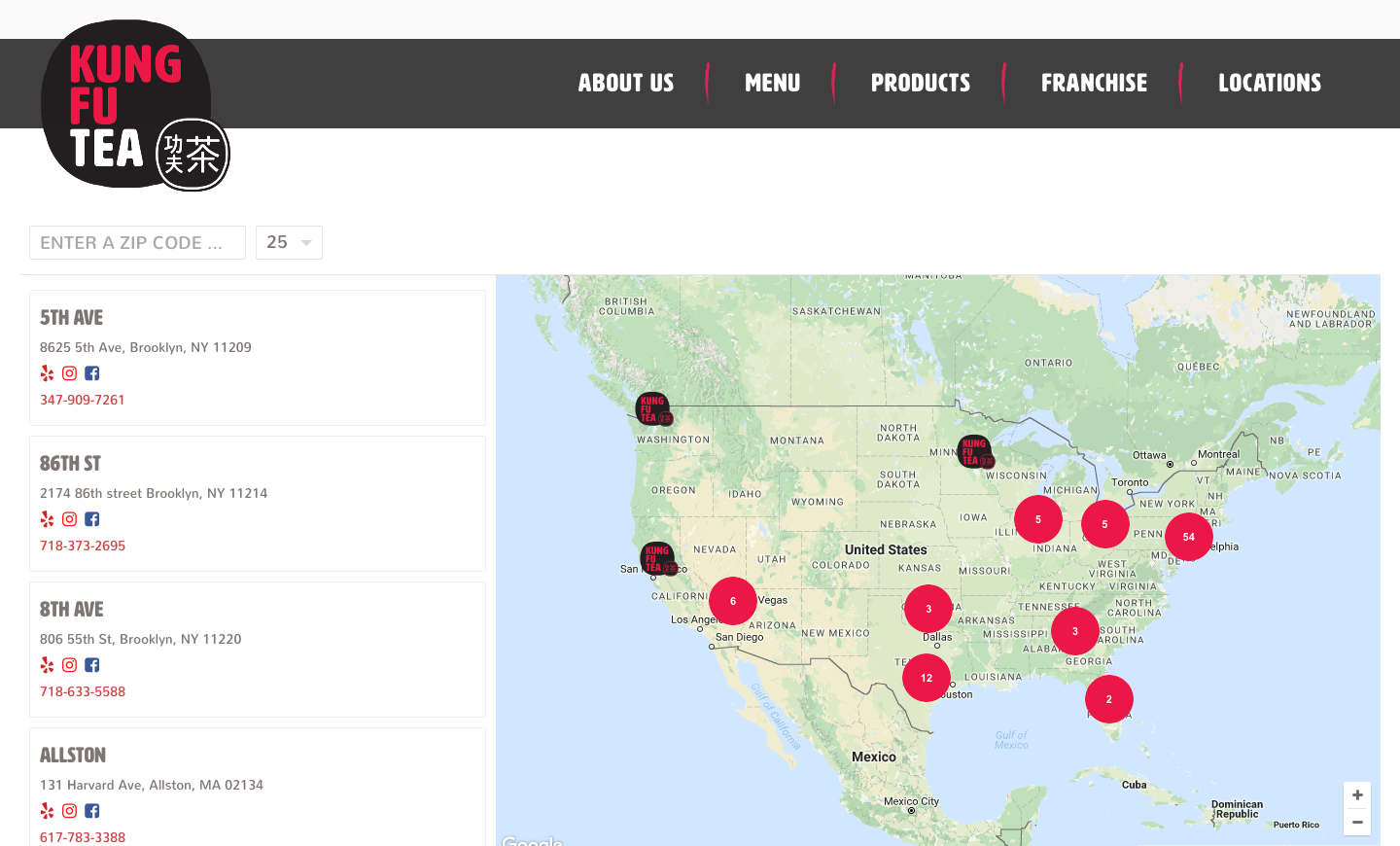 For Kung Fu Tea's store locator, in addition to custom fonts and custom marker pins, we implemented marker clustering. This gives their store locator a really clean look.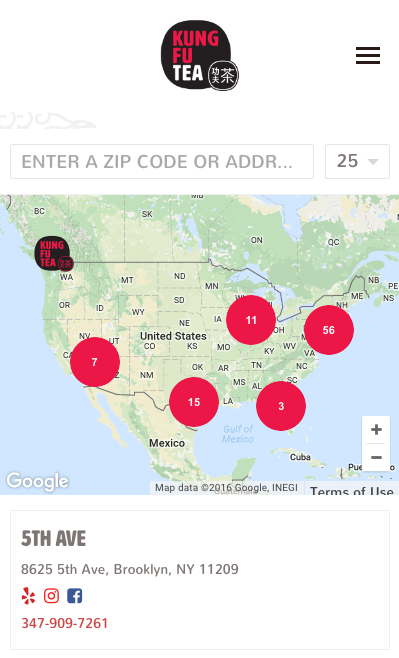 Additionally, the marker clustering allows for easy navigation on mobile, where screen space is always limited.
Each cluster shows the number of locations in its general area. Once a clustered pin is clicked, the map zooms in on that area, revealing the individual locations.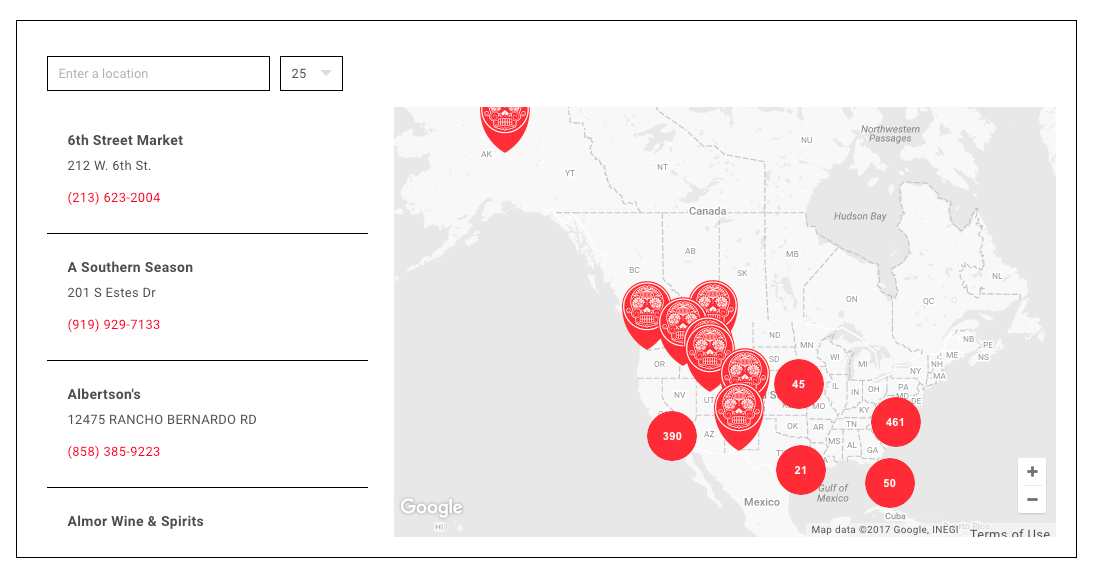 For Heidi's Salsa store locator, we customized the locator with brand colors, special outlines, greyscale styling on the map and custom marker pins.
Additionally, we added marker clustering to make displaying and navigating areas with many locations cleaner and easier.