Try it →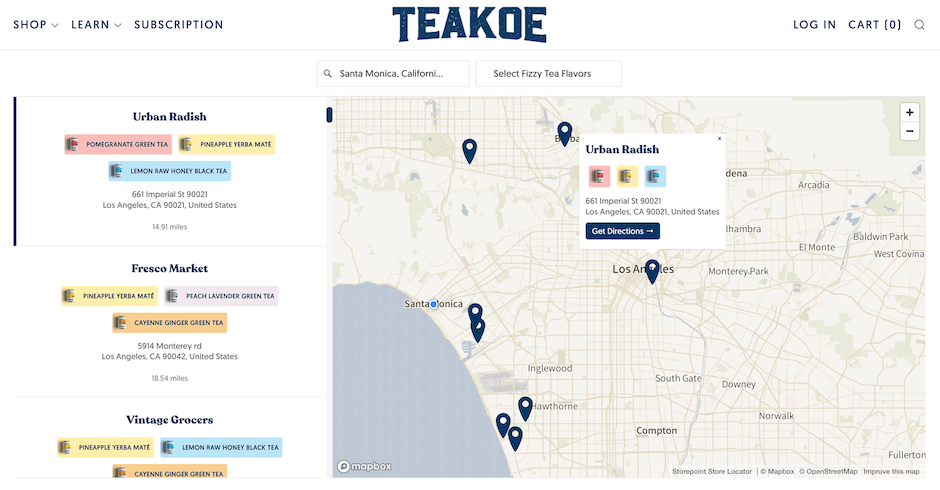 In this example, we look at the Teakoe store locator, created with Storepoint store locator. You can try this live example here.
The store locator was beautifully customized to match the exact fonts and color scheme of the brand. Since each store carries different flavors, the store locator has a product filter with product images that customers can use to find the stores with their preferred product. The various products/flavors are displayed on each location, colorized to match their branding colors and include a product image - just one example of the various customizations available with our store locator tool.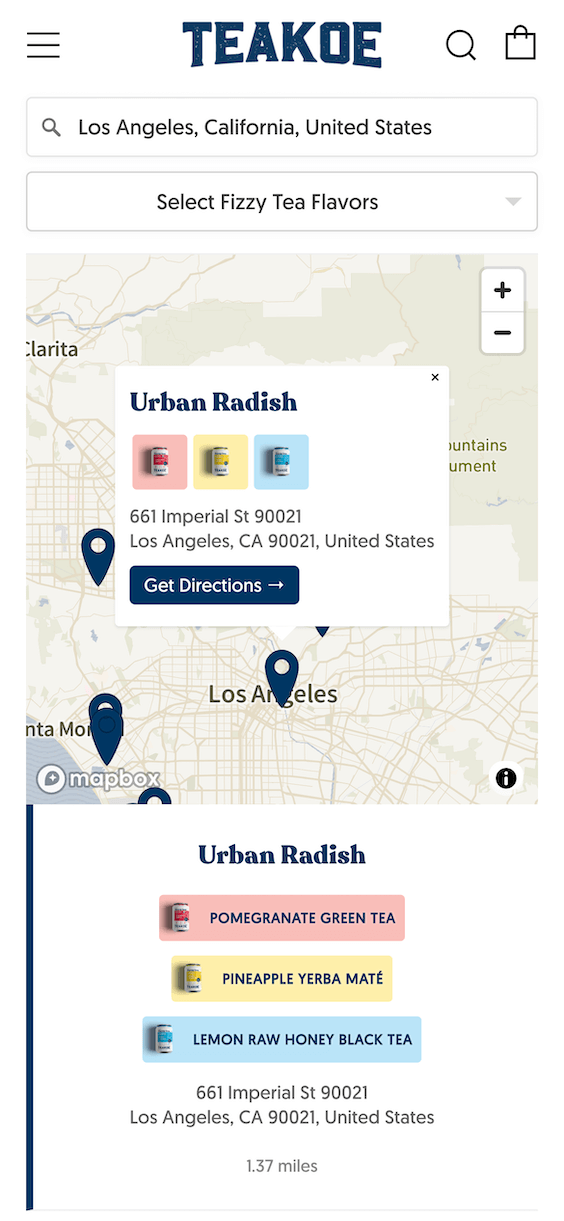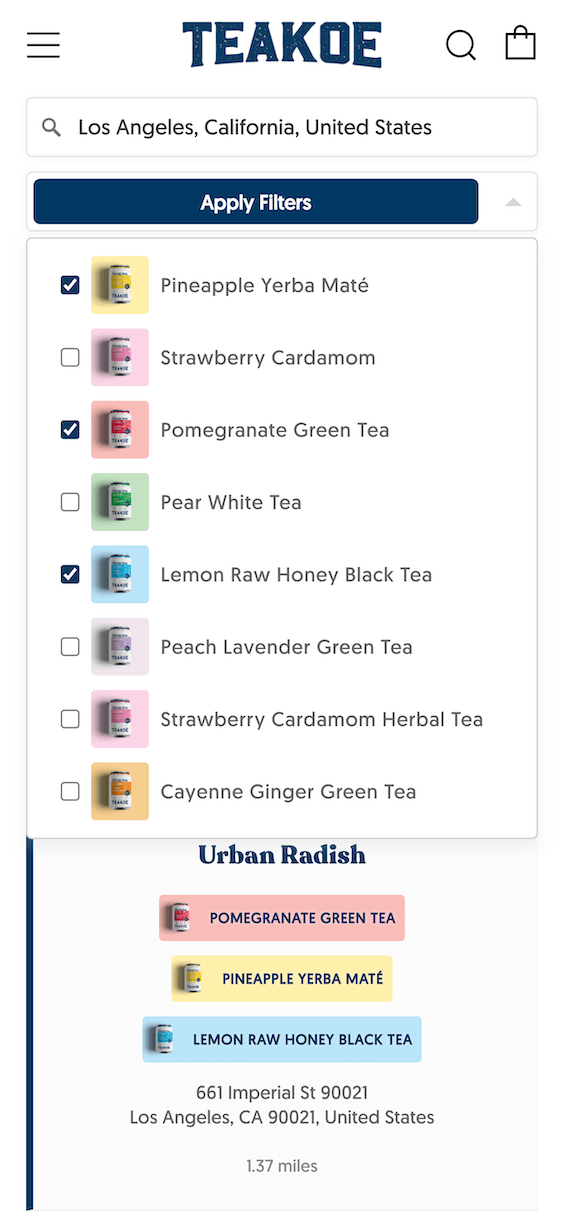 The store locator is fully responsive out of the box so it looks and works great on mobile. Customers can easily navigate on mobile and have access to the same searching and filtering features as they would on a desktop device.
Automatic geolocation is a great feature enabled on this locator. When customers open the store locator page, the locator instantly focuses in on their nearest locations - this is great for user experience as your customers get results right away. Of course, customers can search for another location if needed.
Try it →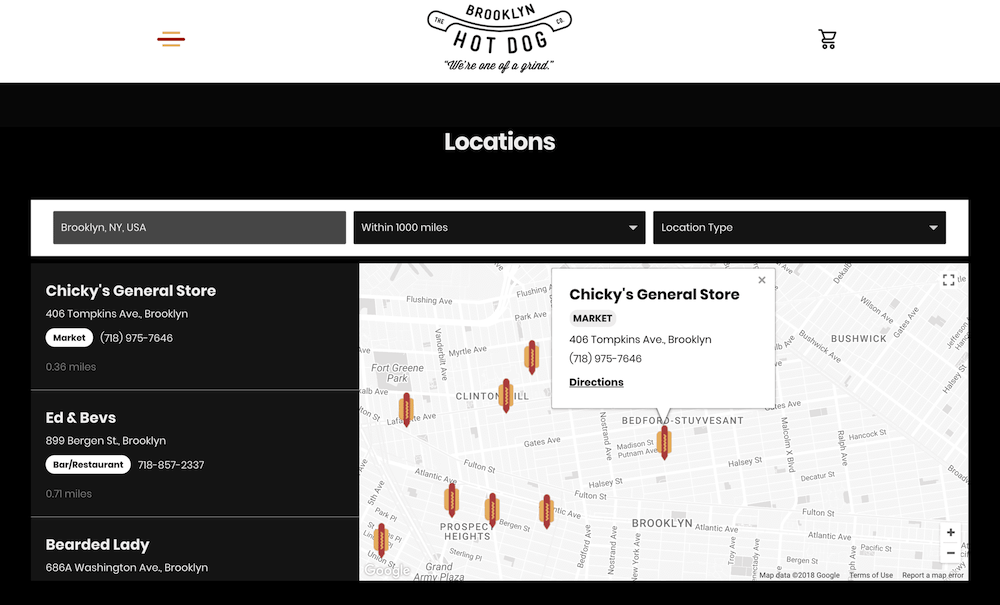 For The Brooklyn Hot Dog Company website's where to buy tool, created with Storepoint's store locator app, everything from the fonts to layout were customized. Beyond the design, made to match all aspects of the brand, each location is tagged and categorized depending on whether it is a "bar/restaurant" or "market". Customers can easily filter by the type of location they're looking for when searching.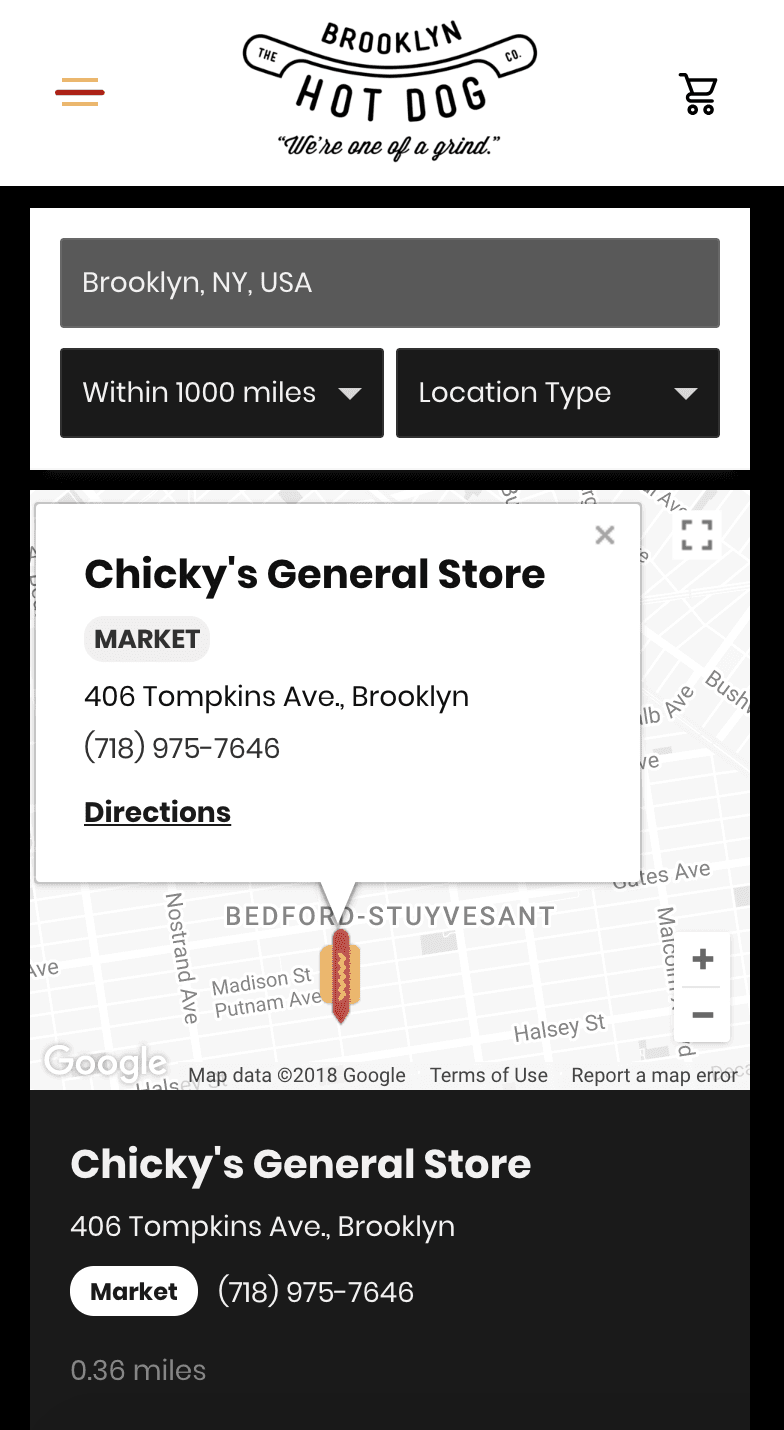 Using automatic geolocation, customers instantly see their nearest locations and if no locations are found, a custom message appears.
The store locator is also designed to be responsive - that means it looks and works great on mobile devices. The layout is modified specific for mobile devices in order to make use of the limited screen space while still being user friendly.
Try it →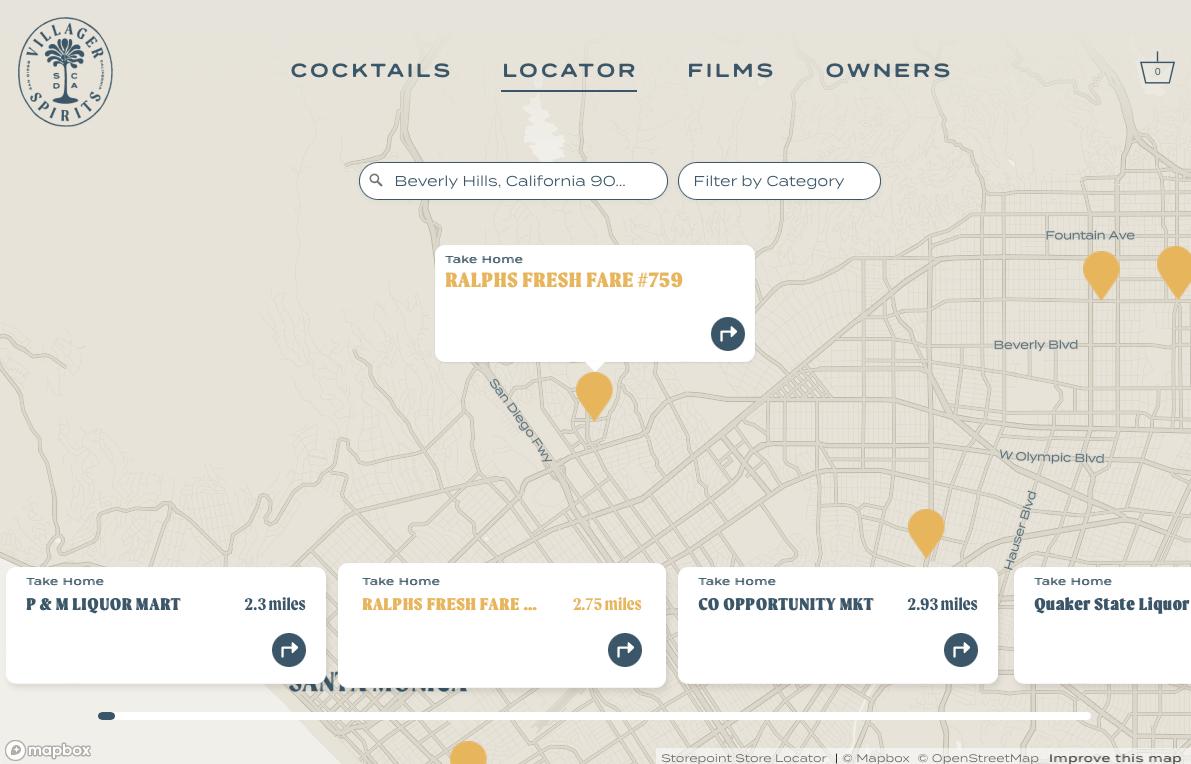 Villager Spirits uses their Storepoint store locator widget to highlight stores ("take home") as well as bars/restaurants ("drink out") that stock their cocktails. Customers landing on the page instantly see their nearest locations using the automatic geolocation feature (the linked example above will instead default to Los Angeles to ensure locations always appear) and can filter by the type of location to find either stores or bars/restaurants. The filters and location types were set up using our store locator's tags & filters feature. As always, customers can search by their zipcode or city to find locations in an area other than their current location.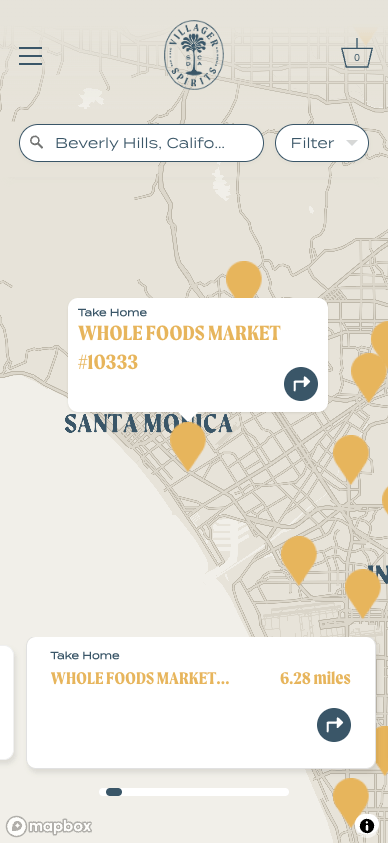 The Storepoint locator app was customized to seamlessly blend in with the Villager Spirits brand colors and website theme. The locator widget fills the full height/width of the page and the header menu background fades in to match the custom map style's background color for a beautiful full screen locator view. The results list was also modified to scroll sideways along the bottom of the locator widget, hovering over the map view, a great example of the flexibility of customizations possible.
The store locator also works great on mobile, making great use of the limited mobile screen space - allowing customers to easily find their nearest locations across a variety of devices and screen sizes.
Feel free to try out the locator here: https://villagerspirits.com/pages/locator
We can customize a locator to match your website & brand too! Included free with all of our plans.